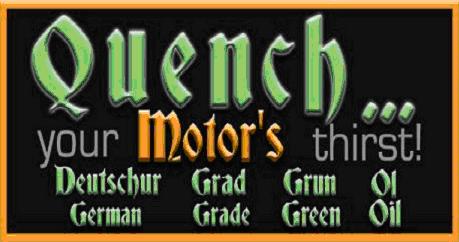 If You call it BioDIESEL
You can NOT distribute it like
WATER.
IF You call it BioGREEiesel - You
can !!!
NOW You can start your own
PROFITABLE Oil Co. TODAY!
1. BioGREEiesel can be stored anywhere that WATER is stored.
BioGREEiesel is safe to handle and transport because it is as biodegradable as sugar, 10 times less toxic than table salt, and has a high flashpoint of 300 F
compared to petroleum diesel fuel, which has a flash point of 125 F.
2. BioGREEiesel is a proven Vegetable Oil with over 200 million successful US road miles and over 30 years of use in Europe as a petroleum diesel alternative.
3. BioGREEiesel is a Vegetable Oil that runs in any diesel engine
NO Diesel Engine Modifications NEEDED
4. The use of BioGREEiesel can extend the life of diesel engines because it is more lubricating than petroleum diesel fuel, while overall fuel consumption, auto
ignition, power output, and engine torque are unaffected by BioGREEiesel.
5. BioGREEiesel is the only alternative substance in the US to complete
all Health Effects Testing under section 211(b) of the Clean Air Act.
BioGREEiesel provides a 90% reduction in cancer risks


6. The Congressional Budget Office, and Department of Defense, US Department of Agriculture, and others have determined that BioGREEiesel is the low cost alternative Vegetable Oil option for fleets to meet the Energy Policy Act.
7. BioGREEiesel produces 80% less carbon dioxide emissions and 100% less
sulfur dioxide, a 60% reduction in total unburned hydrocarbons, and a 75-90% reduction in hydrocarbons, particulates and carbon monoxide than petroleum
diesel fuel.
BioGREEiesel is 11% oxygen by weight and contains no sulfur.
8. When burned in a diesel engine, BioGREEiesel replaces the exhaust odor of petroleum diesel with the pleasant smell of popcorn or french fries.


9. BioGREEiesel can be used alone or mixed in any ratio with petroleum diesel.
The most common blend is 20% BioGREEiesel with 80% petroleum diesel is "B20."

10. BioGREEiesel can be made from domestically produced, renewable oilseed crops such as soybeans, or from recycled vegetable oil waste.
Learn MORE CALL TODAY 928-237-1527
QUENCHyourMotorsThirst@DoctorBioDiesel.com